Setting Life Goals
When Defeat is Hindering YOU
Tips for Setting Goals and Achieving Them
About setting life goals:
Want to know my secret to success? I stopped giving my power away and selling myself short.
Sounds New Age-y doesn't it? It's not, honestly.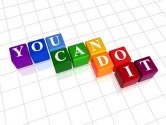 I lived in a state of sadness,
defeat, depression and hopelessness – all the while building a successful business. In my business life, I stood strong in my beliefs, I continually grew in knowledge, I continually believed in what I could do…
… but in my own personal life I de-powered myself. I continually "abused" myself.
As my niece would say, "I spoke smack about myself."
And that was even AFTER I left my abusive husband.
Everything that came out of my mouth was vile (to put it nicely). I continued to say hurtful words about myself. Even as a successful business woman I still didn't see myself as anything but bad. I look back at that now and I wonder how I could speak that way to myself. I deserved better.
Now having a domestic violence organization, I work with women who have that same victim mentality and abusing themselves with horrible words.
Unfortunately what that does is hinder their future. No matter how well you do in life, internally you are powerless because you are continually hurting yourself. Moving forward is difficult because your words and thoughts overtake what you can actually achieve.
They become stuck in their life and use their past to stop them from moving forward. Ironically, if you ask them, they hate their life and want something different.
So the question is:
are you living in victim mentality and are you stuck in a life of defeat, hopelessness, and are you tired of the life of losses?
Do you want more for yourself and your children? Do you want to move from couch potato to designer couches? Are you ready to say good-bye to your past and run towards the bright future you've always wanted?
It actually won't take much to move forward – especially if you are tired of your life.
It's going to take a few small changes, but setting life goals that will move you forward will empower you to be who you really are.
As you will see throughout this website I ask a lot of questions. The reason is that when we actually put our answers on paper, we actually realize what is going on in our mind. If we skim over these questions, you won't make progress, you will stay stuck in your situation.

To move forward on setting life goals, you need to see what is really going on in that noggin of yours. And the only way to know what is going on is to ask it. Unfortunately if you only read and ponder, you won't move forward, you will continue to sabotage your future. Seriously.

Studies have proven that the only way to heal, break sabotaging habits, and break victim mentality is to journal your answers (well going to a therapist helps too, but they will tell you to journal!). Just think of me as your $1000/month therapist – who isn't charging you for setting life goals!

If you are serious about your bright future you need to do something – and quick! Remember you have a choice to be who you want to be!


First let's think about the things that aren't working in your life…
Name three things that are sabotaging your future.
What fears are contributing to stopping you from moving forward?
What are the results of not moving out of this current life?
What scares you from moving forward?
What are you willing to do to move forward?
When are you willing to do it?
What are you saying to yourself that is hindering your future?
Are you talking smack? What are you saying?
Are you willing to stop saying abusive things to yourself?
How will you do that?
Now let's work on what is working in your life…
What are you passionate about?
What are your business strengths?
What are you experienced in?
What jobs/businesses have you worked in?
Are any of those something that you can do as a career?
If you could do anything what would it be?
How can you incorporate what you love with what you do? Has anyone done it before? Is there someone who can train you?